Even in today's world of E-Mail, E-Commerce and E-mergencies, we believe there is still honor in your word and handshake, because we are committed to developing long term relationships with our clients.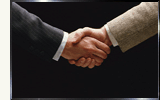 We are a full service insurance agency ready to assist you locally or nationwide with your personal, business, life, and health insurance.
With experienced staff dating back to prehistoric times - The "60s"- our goals are to protect your insurance needs at the lowest premiums with the least invested effort from you. Even though insurance companies are requesting infinitely more detail for policy issuance, our applications are simple and concise.
Specialties
We excel in promoting and servicing the following:
Shopping Centers and Real Estate
Long Term Care Facilities

Golden Empire Insurance Agency
28720 Roadside Drive, #376
Agoura Hills, CA 91301
Phone: (800) 899-5556   /   (818) 597-7880   Fax: (818) 597-0078
Email: info@goldenempireins.com
CA License #: 0338632
Important Note:
This website provides only a simplified description of coverages and is not a statement of contract. Coverage may not apply in all states. For complete details of coverages, conditions, limits and losses not covered, be sure to read the policy, including all endorsements.
 
© Copyright 1999-2003 Golden Empire Insurance Agency